The Second Century Report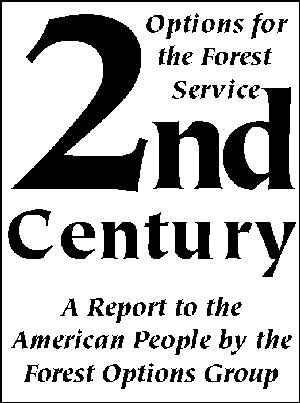 A year ago, the draft Second Century report was posted on this site with a request for public comments. The report proposed a detailed process for reforming the Forest Service that was jointly developed by the Forest Options Group, which consists of industry, environmental, and Forest Service leaders.

Now, after receiving public comments, the Forest Options Group has developed a final proposal. A public briefing on this proposal will be held at the Mayflower Hotel, in Washington, DC, on the morning of January 28. A briefing for Congressional staffers will be held at the Holiday Inn on the Hill on the morning of January 29. For information about attending either briefing, email fog@ti.org.

The final report below contains numerous changes in response to public input, but the basic proposal--to test selected reforms on various national forests for five years--remains intact. Your comments are still welcome and should be sent to fog@ti.org.
Table of Contents
Introduction and Summary
The Forest Options Group Proposal
---
Invitation to Comment
The Forest Options Group considers this proposal to be final, but remains open to new ideas and suggestions. If you would like to submit comments, we suggest you use one of the following forms or simply email to fog@ti.org.
---
Appendices
These appendices are presented as background materials crucial to the Second Century report. The "Responses to Public Comments" describes the most significant changes in the proposal made in response to public review. The "History of National Forest Conflicts" was written by selected Forest Option Group members to explain how we got where we are today. "Estimating Pilot Budgets" provides information on budgets and incentives.

"Texas' Entrepreneurial Budgeting" provided the inspiration for pilot 1. "Howdy Neighbor!" provided inspiration for pilots 2 and 3. "State Trusts" inspired pilot 4. "The Public Utility Model" inspired pilot 5. The Forest Options Group rejected "the New Zealand Solution" for American forests, but this article by the former New Zealand Minister of State-Owned Enterprises offers many important insights.
---
Electronic Drummer | Reports